Showflat Location: *Beside Riverside Point*
🎯 Target Preview: Oct 2021 🎯
𝐈𝐧𝐭𝐞𝐠𝐫𝐚𝐭𝐞𝐝 𝐃𝐞𝐯𝐞𝐥𝐨𝐩𝐦𝐞𝐧𝐭 𝐰𝐢𝐭𝐡 𝐃𝐢𝐫𝐞𝐜𝐭 𝐀𝐜𝐜𝐞𝐬𝐬 𝐭𝐨 𝐭𝐡𝐞 𝐌𝐑𝐓 ‼️
🏆 Developer: CDL & CapitaLand🏆 consists of:
🔺696 units in 2 Towers: 48 / 24-storey Residential Towers.
🔺Unit Mix: 1 BR to 5BR.
🔺2-storey commercial podium managed by CapitaMall
🔺21-storey Moxy Hotel (by Marriott International)
🔺20-storey Serviced Residence (by Somerset)
🔺 2 MRT: Fort Canning & Clarke Quay
Canninghill Piers is an upcoming exciting integrated development situated at River Valley Road and in the vicinity of Clarke Quay. The property is set to have about 700 units in two residential towers. The former development on the site comprises Novotel hotel, Liang Court Mall, and Somerset Liang Court's serviced residences.
Jointly developed by CapitaLand and City Developments Limited (CDL), there is no place quite like CanningHill Piers. On one side lies the glittering Singapore River and its vibrant cafes, bars, and restaurants. On the other side, the verdant tranquility of Fort Canning Hill provides the perfect foil. Beyond its unmatched position overlooking two of Singapore's historic sites, this new luxury residence is set to be a landmark in its own right.
Looking at the development trajectory of major cities, projects situated in the core central regions (CCR) will continue to increase in value, partly due to the prime location and easy access to lifestyle amenities, making the living environment a perfect choice.
The luxurious city-waterfront lifestyle is the ultimate living to die for. Introducing Canninghill Piers, an upcoming integrated development conveniently located near the entertainment hub of Clarke Quay along River Valley Road. This project is built on the hillside and riverside, offering an abundance of retail malls, recreational amenities and good feng shui. 
放眼全球各大都会发展的轨迹,随着城市建筑、人口、交通愈加饱和,一个凝聚城芯价值的多功能空间便会崛起。一个集合衣食住行四维一体的建筑,便被称为城市综合体。
如果城市综合体项目还能依山傍水而建,那就使人居环境完美无瑕了。
康宁河湾 正是这样一个依山傍水的综合发展项目。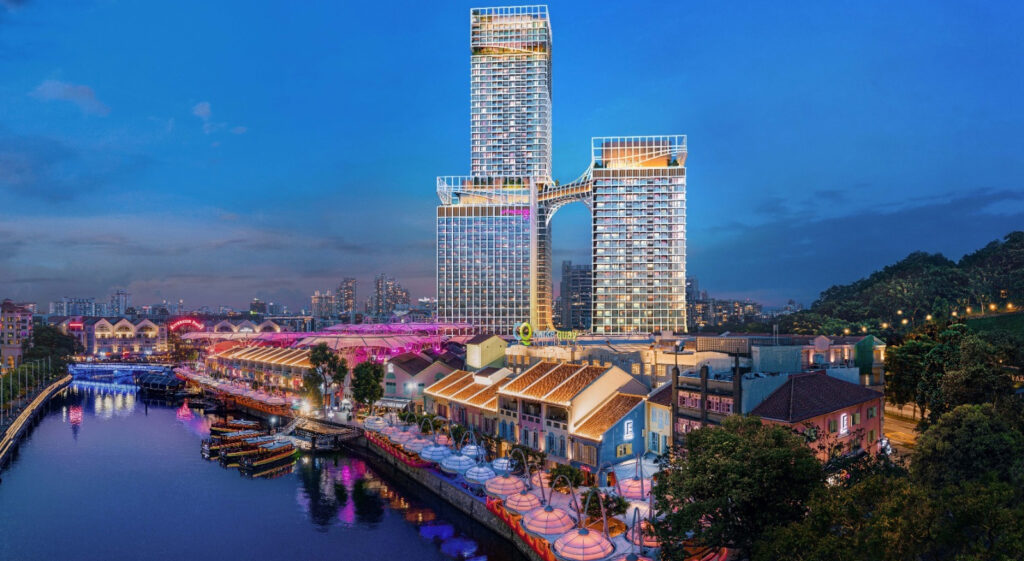 At 180 metres, the 48-storey residential tower facing the riverside will be the tallest residential development along the Singapore River, while the 24-storey residential tower overlooking Fort Canning Hill stands at 100 metres. Housing a total of 696 units, the two residential towers are connected by an iconic sky bridge on Level 24, filled with a wide range of lifestyle facilities such as the Sky Gym, Infinity Lap Pool, Sky Gourmet, Flexi Lounge and Function Room offering unobstructed views of Fort Canning Hill, Singapore River, the Central Business District (CBD), Marina Bay and beyond.
KEY HIGHLIGHTS
A rare, integrated development, juxtaposed between beautiful Fort Canning Park and Singapore River

Developed by Leading Developers of the Country

Fringe CBD and Orchard Road, with Ample Travel Options All Around, including N

ew MRT Stations
Amazing Dining, Leisure, Recreation Options, including Clark Quay, Chinatown, City Hall, Fort Canning Park 

Exciting Transformation of iconic Singapore River and charming River Valley
Upon completion of Canninghill Piers, CDL-CapitaLand will own the commercial and residential components while 192 units of serviced residence with a hotel license will be under Ascott Reit. CDLHT is set to own the hotel featuring between 460 and 470 rooms on a forward purchase agreement with CDL. The hotel will be run by Marriott International operating as Moxy, and the serviced residences will operate as Somerset.