A home for perpetuity, Terra Hill will be an asset for generations with a lease that never decays. With less than 20% of land being freehold and all GLS land being on 99 year tenure, freehold properties will only become rarer and more valuable over time.
GREATER SOUTHERN WATERFRONT
Right at doorstep to the Greater Southern Waterfront, be the first mover into Singapore's business district of the future at Terra Hill. Grow STATE in tandem with the development of prime waterfront land 6 times the size of Marina Bay.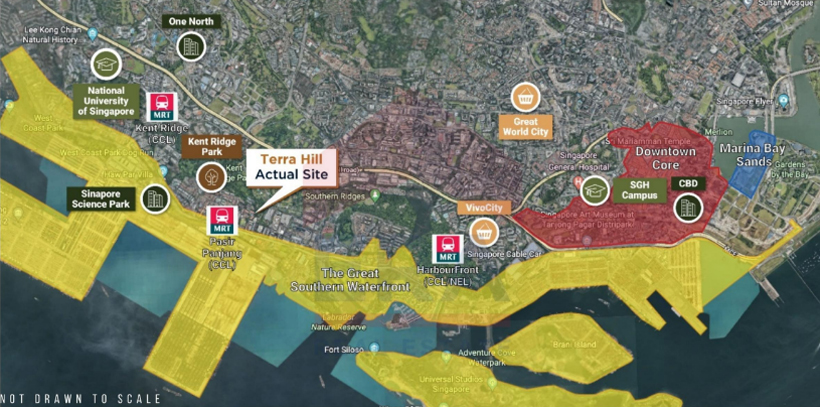 | Item | Information |
| --- | --- |
| | |
| | Hoi Hup Realty and Sunway Developments |
| | |
| | Qingjian Realty & Santarli Construction |
| | |
| | |
| | |
| Estimated Number of Units | 270 units of 2 bedroom, 3 bedroom and 4 bedroom |
| | |
ONE NORTH MAPLETREE CITY HARBOURFRONT
VIVOCITY AND RESORTS WORLD SENTOSA
NATIONAL UNIVERSITY OF SINGAPORE
PRIVATE ENCLAVE WITH OPEN AND LANDED VIEWS
Reap the full benefits of the MRT effect at Terra Hill with Pasir Panjang MRT a short walk away. Enjoy unparalleled convenience with Harbourfront MRT, Marina Bay MRT and Orchard MRT just 3, 4 and 5 MRT stops away respectively.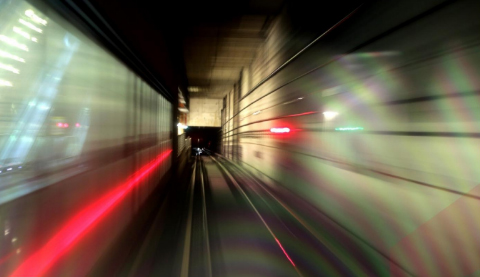 Flanked by Kent Ridge Park, future residents of Terra Hill will enjoy the best in nature with a variety of activities from history, fitness, sightseeing, relaxation and activities in one tranquil destination spanning over 47 hectares.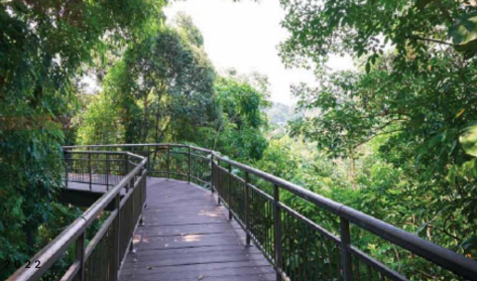 Over time, leasehold values depreciate compared to freehold land.
As time passes, freehold titles commands increasingly greater premiums.
This is a benefit (and premium) that owners of freehold title can pass down perpetually.
In theory, the premium paid when buying freehold properties can 'roll over' to the next buyer forever, as the difference between freehold and a leasehold title bought in the same year continues to widen.
Land is only sold on 99 year lease in Singapore; new freehold developments generally have to originate from collective sales.
Freehold titles continue to be popular and wave of new freehold units from the previous 'en-bloc' is mostly sold.
As freehold titles get more exclusive, so will the expectations of collective sale sellers and future freehold new home prices
Over the last 4 years, about 8,700 new freehold units were launched, but more than 80% has already been absorbed.
FRONT ROW SEATS TO TRANSFORMATION
Stretching more than 30km, the Great Southern Waterfront extends from Pasir Panjang to Marina East.
Planned to include 9,000 housing units along Singapore's southern coast and include a continuous waterfront promenade, with green and open spaces.
The 2,000ha area, twice the size of Punggol, includes prime land that will be freed up when PSA's terminals at Tanjong Pagar, Keppel and Brani move to Tuas by 2027, as well as Pasir Panjang terminal by 2040.
Two old power stations in Pasir Panjang will also be repurposed.
New attractions will be built on Pulau Brani near Sentosa and could include a new NTUC Downtown South resort.
Keppel Club will be one of the first developments in the zone, and will become a new residential precinct. The club's lease ends on Dec 31, 2021.